"I fear not being able to come home to my children."
"I have a fear of riding roller coasters because I have no control."
"I have a fear of airplanes, so I will never sky dive."
The question seemed pretty simple, yet the answers were very much unexpected. One answered touch me, as I sat digesting the emotion of the response. The second was somewhat of humor, and actually made me laugh. The third, I would wholeheartedly agree! Three men, three different fears, yet the common denominator among them was the love and passion for racing.
Although one of the men prefer racing rice rockets, all three men have comparable experience in racing Harley Davidson motorcycles. Known for their distinct sound and customized appeal, the baggers have made an increasing presence in the Urban Motorcycle Community. Harley Davidson motorcycles are known to be some of the heaviest in production……..so what would it take to make these cruising companions RACE READY?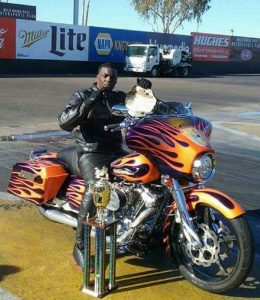 I would soon find out, after having the honor of interviewing these distinguishing racers, who might I add, are well-known in the Urban Motorcycle community. Each of them, in a class of their own, are known to individually hold their grounds. They are Zo Mar (Magic Wheels MC) and co-owner of Urban Custom Bikes, Ponto Racer (Rarebreed MC) and Ronell Black (East Bay Drifter MC). Each started riding at a very young age and have been racing for well over 20 plus years. These men have raced everything under the sun, from dirt bikes, quads, sport bikes and even cars. Zo Marr stated he would even race a person on foot, as he shared his love for track and field. Currently, Ponto Racer races a 2006 Harley Davidson Road Glide. Fast Black races a Harley Davidson Electra Glide, and Zo Marr races a 2010 Road King.
"I'LL RACE ANYWHERE, I'LL RACE IN SOMEONE'S BACKYARD IF I COULD!"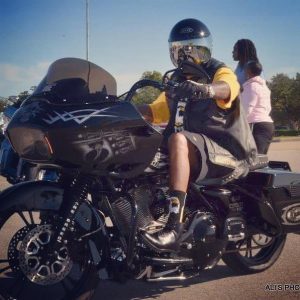 When asked what inspired them to start racing, Ponto Racer stated that he started very young, and was initially into racing sport bikes. However, once he started seeing other guys on the motorcycle set race Harleys, he decided that he didn't want to be a bystander. He started investing his money to build a bike that would be able to handle the competition. Fast Black stated that his older brothers started him to racing. They motivated him to be better, eventually pushing his riding skills to exceed them both. He also shared how he wish that they both were still here to see how far he's come, as he's known as one of the most competitive racers in his league. Zo Marr stated that his inspiration came from within, citing his competitive nature for the reason he started racing. To take it even further, he shared how he rode 3000 miles in 2015 with Highway Smiley (Kings of Cali MC) within a 42 1/2 hour time frame (less than 2 days), making him not only a racer but a true ground pounder!
As for any pre-race rituals or preparation needed, the men all stated that there wasn't anything they did as a necessity to win a race. They all stated that it was second nature to them and didn't require much preparation. Fast Black added that he has to be sure that the bike's oil and spark plugs are fresh and that his nitrous bottles are filled. After a few test passes, Ponto Racer states he's ready to pull up to the line, due to his usual nervousness. Zo Marr simply needed a prayer for safety, stating whether he wins or lose, he just want to have fun.
All three men agreed that they prefer racing a 1/4 mile. Zo Marr and Fast Black stated for safety reasons, they favored racing at a track. However, Ponto Racer said he would race anywhere, adding if he could race in someone's back yard he would! When each men was asked to name their greatest opponent, they all agreed that it was themselves. I asked if the opportunity presented itself for them to do any race over, which race would it be? Fast Black stated that he would want a rematch with a racer by the name of Hollywood. He continued, stating that he was beat fairly, however, he would like "to set the record straight." Ponto Racer stated that he would like to rematch a racer named Dynamite. He stated that his bike was as fast as fast as his tongue, and if given the opportunity, the next time he would be on him! Zo Marr explained that he lost a race to a guy in Las Vegas once. He stated that he jumped too early, as it was his first time at the track, resulting in a disqualification. Each racer explained how sometimes they end up beating themselves, which was the case in two of the incidents above.
Just a few weeks ago, at the 42nd Soul Brothers MC (Arizona) anniversary weekend, Fast Black won the Championship Trophy Belt for the 1/4 mile races. Ponto Racer were among the racers eliminated for the belt. However, during the practice trials, he won one race against Fast Black. Both men have expressed a mutual respect for each other's competitive nature and level of competence for racing. In addition, Ponto Racer shared, that since he started racing Harley Davidson's motorcycles, he gained a great friendship with Fast Black, Zo Marr and even mention a few other racers such as Rob G. Bruce and a racer named Sammy.
"JUST ABOUT EVERYTHING YOU DO IN LIFE CAN BE DANGEROUS. I BELIEVE WHEN THE FATHER ABOVE IS READY FOR YOU, HE WILL ACCEPT YOU AT THAT TIME!"
We all agree that sometimes the love for anything will supersede the threat. Racing motorcycles is certainly a dangerous sport, however, as Zo Marr stated, just about anything that you do in life can be dangerous. These men agree that they are doing something that they absolutely enjoy. The speed, the adrenaline rush, the edge and competitiveness, all play a large part in why they will continue to race. They are grateful for having the opportunity and ability to do so. Ponto Racer shared a humbling conversation that took place in Arizona with a veteran racer by the name of Heavy (Soulbrothers MC). When Heavy discussed his experiences with racing Caucasians in the 1960's, Ponto stated that it gave him chills. He shared his gratitude at being in the presence of an African-American race legend, stating he hoped to be like him one day.
Needless to say, these men are already in a class of their own, making them Too Fast For the Furious! Each of their styles slightly differ, making them unique in their own lanes. They race hard, but more importantly, they have a good time while doing so. Their competitive edge continues to drive their heart, and their love for racing will continue to drive their spirit. So, pull up…..if you may, but remember to bring your A-game, and when you call their names….Put Some Respect On It!!