Riding motorcycles for most is so much more than an enjoyable pastime! It's therapeutic. It's comforting and consoling. Feeling the wind, the tranquility and admiring the beautiful sights, all are something that an enthusiast looks forward to.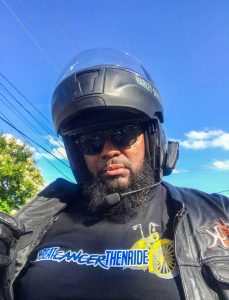 Timothy "LT" Mitchell, a member of Klutch N Khrome MC, was no different. As a 10-year riding veteran, he enjoyed taking extended trips on his Harley-Davidson Fat Bob. Never would he understand just how much he enjoyed riding, until a life-changing event caused him to stop.
As the owner of a small landscaping company, he continuously felt drained and unusually tired, throughout his 2016 season. In September, one Thursday morning, he decided to visit his doctor, who ordered blood work to be done. The next morning, he received a call advising him to go to the hospital for a blood transfusion, as his hemoglobin was extremely low. He stayed in the hospital for the entire weekend. The doctor ordered a series of exams to find out why his hemoglobin was so low. The following week, a colonoscopy was done. After finding a mass, a CT scan was ordered, which confirmed, Tim had colon cancer.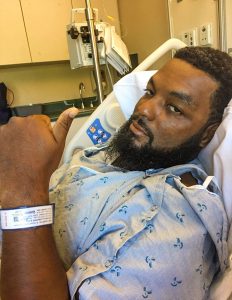 The following week, Tim had a partial colectomy, removing the mass, however, 20 lymph nodes were found. He was ordered to have 12 rounds of chemotherapy. His treatment would be on every other Monday; however, each treatment would last for three days. He would have a four-hour infusion, and would be sent home with an IV and fanny packed that contained a bag of chemotherapy medicine, which would pump constantly for the next 47 hours. Tim would go back to his doctor on Wednesday of each treatment week to be disconnected.
Because of the side effects of chemotherapy, Tim suffered from constant nausea and a condition referred to as neuropathy. Neuropathy made it hard for Tim to do simple things, such as pick up items, hold things in his hands, and even buttoning his shirt. It also made him very sensitive to cold. He stated that it felt like needles or an electric shock when he opened the refrigerator to take an item out. He was unable to drink anything cold, stating it literally felt like he was swallowing razor blades.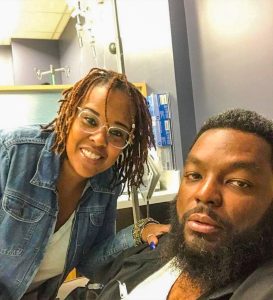 For each of his 12 chemotherapy treatments, his wife, Keisha "Juice" Mitchell, would be right by his side. One day while having an infusion done, he had a conversation with his wife, stating he was going to beat cancer, then take off and go riding. He took a photo and posted it on Facebook with the hashtag beatcancerthenride. He decided that he was going to take control of what he was going through and he wanted to encourage those that were going through the same things. He started a page on Facebook and entitled it BeatCancerThenRide!
The outpour of love and support he received from his family and friends was what he attributed to his strength in fighting cancer. From prayers, phone calls, text messages, and donations of support, he remained optimistic and continued to stay encouraged. Tim stated, through his page on Facebook, he met a young lady by the name of Sabina in Russia, that was going through chemotherapy. They remained friends throughout the course of their treatments, and Sabina surprised him with a Harley-Davidson t-shirt from Russia.
The week prior to Memorial Day weekend of this year, Tim completed his 12th and final round of chemotherapy. He knew it was time for him to get back to what he enjoyed doing, and that was riding his motorcycle. Even though it was a bit soon after his treatment, he was eager to "twist his throttle and ride."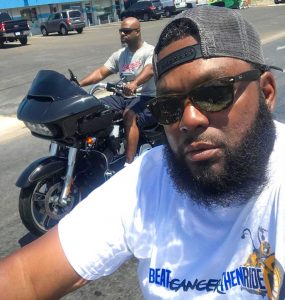 The next week, he took off, riding 2300 miles round trip from Atlanta, Ga to South Padre Island in Texas for the Bike Week festivities. He stated, him thinking of being on the open road again gave him the hope he needed to get through his ordeal. He kept thinking to himself, "how you go through something will determine how you come out of it." Riding was what kept him motivated to beat cancer.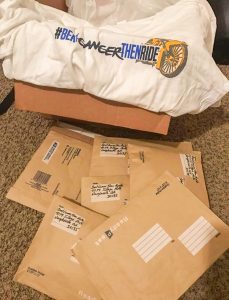 Tim had t-shirts made in support of his new-found initiative, #beatcancerthenride. He wanted to encourage riders, that they have something to look forward to, and that cancer can be beat. As for what's next with #beatcancerthenride, he stated, he is working on creating a foundation that will promote colon cancer awareness. He will plan an annual ride that will donate proceeds to someone in need, diagnosed with colon cancer. He stated he will also continue to keep those that have supported him updated on his progress and highlight other riders that may want to share their stories on his Facebook page.
Be sure to check out his Facebook page "BeatCancerThenRide" at www.facebook.com/beatcancerthenride.