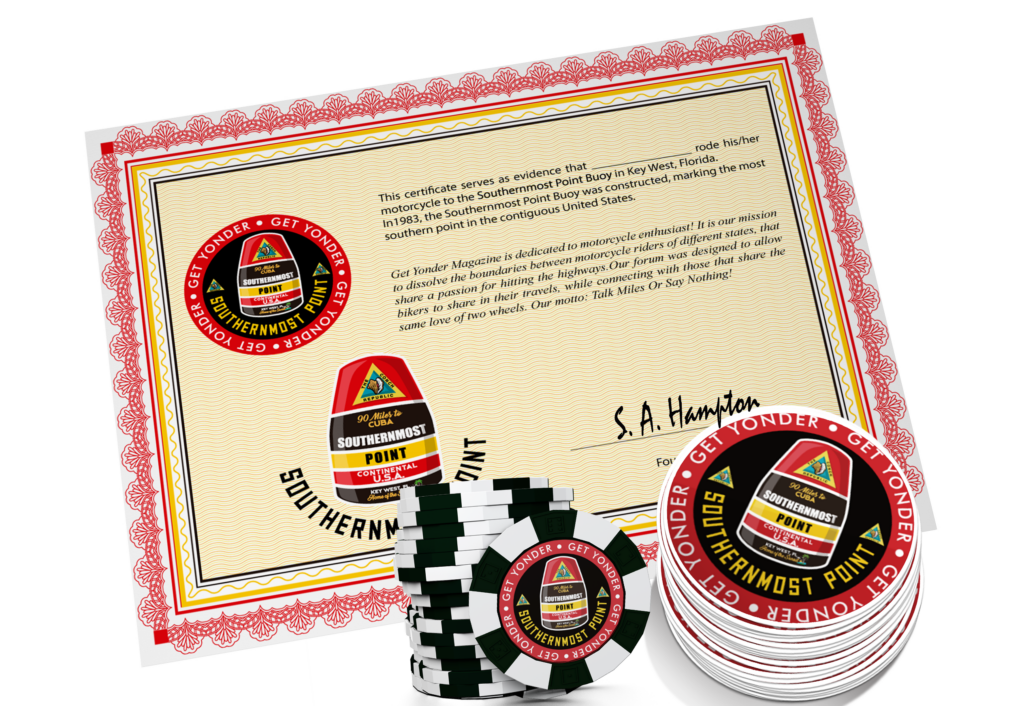 What's Included With Each Kit?
A beautifully designed Certificate
A Riding Token
A token case for safe keeping
A matching token sticker
How To Obtain Riding Tokens
To obtain a Get Yonder Riding Token, you must be able to provide evidence or proof of your ride via motorcycle. Forms of proof may include, but are not limited to: Photos, documents, receipts, tickets, etc.
Once your selected Riding Token is purchased, submit your proof of ride to [email protected]
Be sure to add your order number or name to your email.
Once verification is received, we will mail out your Riding Certificate, Riding Token, air tight case for safe keeping, and a matching token sticker.
Your name will then be listed in our online database (below) for any verified rides.
Riding Tokens Database
| RIDER NAME | STATE | MOTORCYCLE | YEAR COMPLETED |
| --- | --- | --- | --- |
| Shareef AsSadig | TX | Indian RoadMaster | 2015 |
| Ksolo Harris | NC | HD Road Glide | 2017 |
| Kathy Demerle | OH | Yamaha Vstar Deluxe | 2016 |
| Dawn Phillips | MD | HD Heritage Softail | 2018 |
| Todd Lucas | FL | HD Road Glide | 2016 |
| Anthony Simpson | KY | HD Road Glide Special | 2016 |
| Reginald Hampton | GA | HD Street Glide | 2016 |
| | | | |
| | | | |
| | | | |
| RIDER NAME | STATE | MOTORCYCLE | YEAR COMPLETED |
| --- | --- | --- | --- |
| Shareef AsSadig | TX | Indian Roadmaster | 2016 |
| Kim Henry | TX | HD Road Glide | 2018 |
| Reginald Hampton | GA | HD Street Glide | 2015 |
| | | | |
| | | | |
| | | | |
| | | | |
| | | | |
| | | | |
| | | | |
| RIDER NAME | STATE | MOTORCYCLE | YEAR COMPLETED |
| --- | --- | --- | --- |
| Shareef AsSadig | TX | Indian Roadmaster | 2018 |
| Kathy Demerle | AZ | Yamaha Vstar Deluxe | 2016 |
| Todd Lucas | FL | HD Road Glide | 2016 |
| Dawn Phillips | MD | HD Heritage Softail | 2018 |
| Reginald Hampton | GA | HD Street Glide | 2015 |
| Don Phillips | MD | Victory Cross Country | 2018 |
| Ksolo Harris | NC | HD Road Glide | 2018 |
| Kim Henry | TX | HD Road Glide | 2016 |
| | | | |
| | | | |
| RIDER NAME | STATE | MOTORCYCLE | YEAR COMPLETED |
| --- | --- | --- | --- |
| Shareef AsSadig | TX | Indian Roadmaster | 2016 |
| Reginald Hampton | GA | HD Street Glide | 2016 |
| Kathy Demerle | AZ | Yamaha Vstar Deluxe | 2018 |
| Dawn Phillips | MD | HD Heritage Softail | 2017 |
| Don Justified Phillips | MD | Victory Cross Country | 2017 |
| | | | |
| | | | |
| | | | |
| | | | |
| | | | |
| RIDER NAME | STATE | MOTORCYCLE | YEAR COMPLETED |
| --- | --- | --- | --- |
| Reginald Hampton | GA | HD Street Glide | 2016 |
| Kathy Demerle | OH | Yamaha Vstar Deluxe | 2016 |
| Anthony Simpson | KY | HD Road Glide Special | 2016 |
| Jamie Lott | AZ | HD Road Glide | 2018 |
| | | | |
| RIDER NAME | STATE | MOTORCYCLE | YEAR COMPLETED |
| --- | --- | --- | --- |
| Anthony Simpson | KY | HD Road Glide Special | 2016 |
| | | | |
| | | | |
| | | | |
| | | | |
| RIDER NAME | STATE | MOTORCYCLE | YEAR COMPLETED |
| --- | --- | --- | --- |
| Robert Dale | MO | Victory Cross Country Tour | 2017 |
| | | | |
| | | | |
| | | | |
| | | | |
| RIDER NAME | STATE | MOTORCYCLE | YEAR COMPLETED |
| --- | --- | --- | --- |
| Reginald Hampton | GA | HD Street Glide | 2016 |
| Dawn Phillips | MD | HD Road Glide Special | 2019 |
| Don Justified Phillips | MD | Victory Cross Country | 2019 |
| Marion Wilson | NC | HD Street Glide | 2019 |
| | | | |
| RIDER NAME | STATE | MOTORCYCLE | YEAR COMPLETED |
| --- | --- | --- | --- |
| | | | |
| | | | |
| | | | |
| | | | |
| | | | |
| RIDER NAME | STATE | MOTORCYCLE | YEAR COMPLETED |
| --- | --- | --- | --- |
| | | | |
| | | | |
| | | | |
| | | | |
| | | | |
| RIDER NAME | STATE | MOTORCYCLE | YEAR COMPLETED |
| --- | --- | --- | --- |
| Dawn Phillips | MD | HD Road Glide Special | 2019 |
| | | | |
| | | | |
| | | | |
| | | | |
| RIDER NAME | STATE | MOTORCYCLE | YEAR COMPLETED |
| --- | --- | --- | --- |
| | | | |
| | | | |
| | | | |
| | | | |
| | | | |