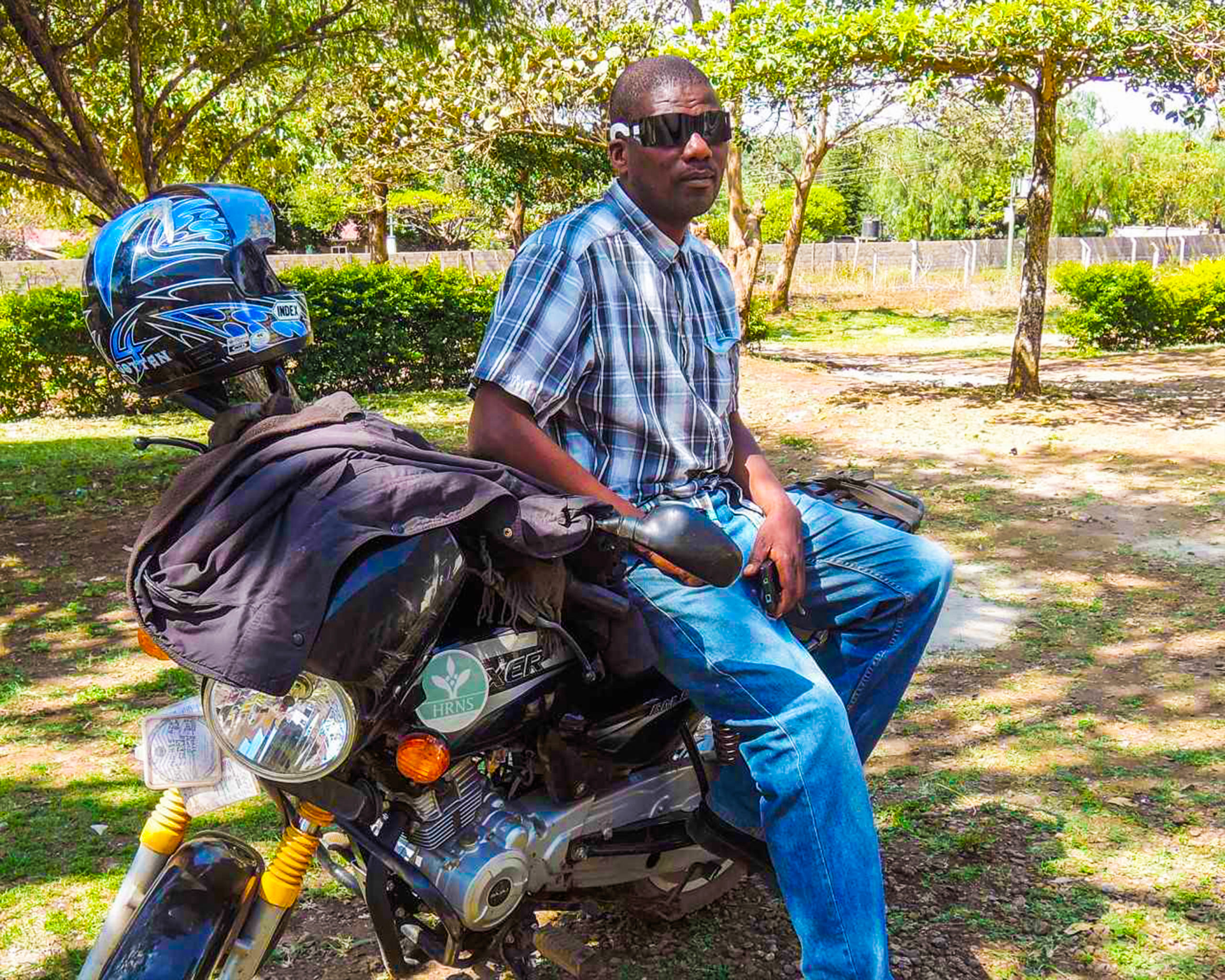 I just returned from another trip to northern Tanzania where I help run a medical clinic.  One of the first things you notice about Tanzania is how beautiful it is and the second thing you notice is the amazing number of motorcycles. They are abundant in the cities and the rural areas alike. The traffic in the cities is horrendous and occasionally bikes will come up on either side of your car at the same time, even on a two lane road. These bikers take lane splitting to a whole new level!
According to government statistics, in 2008 there were 45,000 registered motorcycles in Tanzania and by 2014 this number increased to 148,000. One recent study showed that 90% of all motorized vehicles in rural Tanzania are motorcycles. Three things have helped spur this rapid increase: the availability of cheap bikes from China and India, the very poor condition of most of the roads and the rise of the Bodaboda Taxi industry.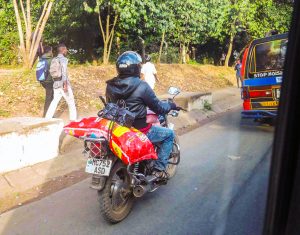 Bodaboda taxis are everywhere and carry everything from people to goods. I have seen them carry people (sometimes 4 or 5 on one bike), large bags of beans or rice, goats, mattresses, lumber and even a couch. If it can be balanced they can carry it! These riders don't Get Yonder in a long distance way, but they put on a lot of miles in a day.
This would be a good place for some definitions:
Piki Piki – A privately owned motorcycle, not used as a taxi.
Bodaboda Taxi – Has two wheels and is usually a Toyo 125cc or 150cc (China), a
Boxer 125cc or 150cc (India) a Kinglin 150cc (India) or a Honda 125cc.
Bajaji – An enclosed three wheel vehicle mainly from the Baja Auto in India. Mostly used in the cities or on paved roads as it is more of a scooter type vehicle.
Toyo Hybrid – Has the front of a motorcycle and a back end that is more like a trailer or pickup box. These carry very large loads and are found in the cities and on paved roads.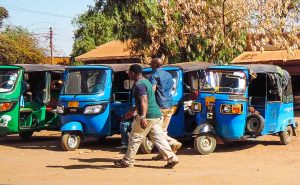 Outside of the bigger cities, Tanzania has few paved roads. Most of the roads are so bad that cars and trucks have a difficult time navigating them, especially in the rainy season, so motorcycles are the preferred method of travel. Our clinic is on a dirt road in the village of Sakila. Sakila is located in the mountains not far from Mt. Kilimanjaro. There is a paved two lane highway at the bottom of the mountain. The bus stops in the village of Kikatiti on this road. If people are heading up the mountain to Sakila, they walk or take a Bodaboda Taxi. According to one of our interpreters, there are approximately 30 Bodaboda taxi riders that service the 6 mile Kikatiti to Sakila run. It is not unusual to see 6 or 7 Bodaboda taxis on the clinic grounds waiting for their next fare. Cell phones are cheap in Tanzania, so most of the fares are booked on the phone.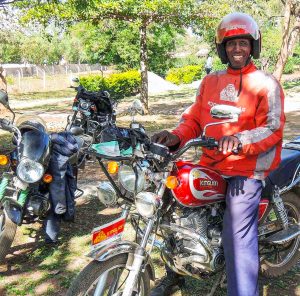 It costs about 1000 TZS (Tanzanian shillings) to ride one way to our clinic; about 50 cents in US currency. This has also fueled the explosion in motorcycles. Working steady all day the Bodaboda riders can make more money than the average person. The median yearly income in Tanzania is less than $600 (US) per year and in rural areas this figure is closer to $300. A Bodaboda driver who works steadily can make over $2000 per year. An article in a recent issue of the Arusha Times told about a large bank who gave 20 motorcycles to homeless men in Arusha to help get them out of poverty. There are private motorcycles, but the majority of the bikes on the road are Bodabodas. Most of the Bodabodas are ridden by their owners, however, there are a good number of people who have worked up to owning several bikes which they rent out to other riders for approximately $3.50 per day.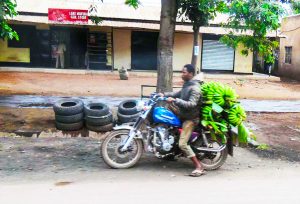 In recent years the number of motorcycle deaths and injuries has skyrocketed. In 2008 there were 309 motorcycle related deaths and in 2014 this number jumped to 1098. Two of our interpreters said this is because of helmets not being used, riders with no experience taking passengers and poor quality of the bikes. The government is responding to the increase in deaths and injury by: requiring that helmets be used, allowing Bodabodas to carry no more than one passenger and requiring all drivers to have a license. It appears that this is enforced more in the cities than in the rural areas, as many times I watch Bodabodas leave the clinic with no helmets and two or three passengers. The government is also pushing for the Bodaboda riders to form associations and help each other with safety and training.
My interpreter of many years, Samuel Mbise, showed me his bike. He currently rides a Toyo Power King 150cc. He has been riding since 1987 and started out on a Honda 90. Samuel is married and the father of 2 girls and 2 boys. He said that sometimes he wished he also had a car, but because of the roads it is better to ride a motorcycle. Samuel is an accountant for a humanitarian aid organization and is also going to school in Arusha to be a CPA. It is a 120 mile round trip to school every day. He has been involved in two accidents, but always wears a helmet. He wears a winter coat for protection, but a motorcycle jacket is beyond his means at this time. (A leather jacket or jacket with armor is about $50.)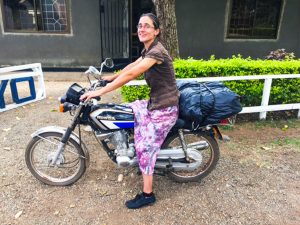 Christine M. is one of the more unusual motorcyclists in Sakila. She is from Nuremberg, Germany and has been teaching at the Hebron Secondary School in Sakila for three years. Chris rides a Honda 125cc. I remarked that she's the only female biker I have seen in Tanzania and she told me that women here only ride as passengers. One reason is that nobody would ever ride with a female Bodaboda taxi driver. Women own shops and have other rights, so it is more of a cultural thing. One of the men told her it is okay if she is female and rides because she is a foreigner. Christine had an interesting story for me.
One day during the rainy season she was on her way back from Kikatiti. During the rainy season the mud here is like cement and builds up on shoes and tires. The tires and wheels on her Honda got caked with mud and quit turning. She was unable to chip it off and because it was getting dark she called a friend for help. Her friend brought another friend and they loaded her bike onto his larger bike. Then the three of them and her bike rode his bike up the mountain to Sakila.
If you ever have the opportunity to ride in this beautiful country take it. Ride safely and wave to our fellow bikers on the Bodabodas.
This story was contributed by: Linda Darelius