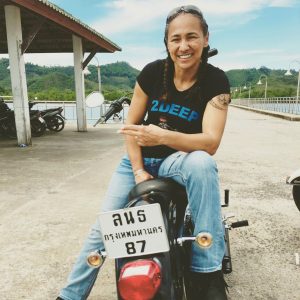 As a motorcycle enthusiast, one can appreciate the universal love of riding on two wheels. With few exceptions, no matter the country or place, you will always find a population of those that share a passion for riding.
Being introduced by her father at a very young age, Cynthia "Snacks" Franklin, is no stranger to motorcycles. As she got older, throughout her high school years and thereafter, her love of motorcycling continued to evolve. After moving to Dallas, Texas, she became a member [and now current president] of 2 Deep WMC. While riding on her Harley Davidson Softail Slim, she has traveled to numerous states. Whenever she's not working, she enjoys riding with her club sisters. However, as an employee of PepsiCo, and a member of their Global Operations team, she is frequently required to travel outside of the country.  When possible, she tries to take advantage of her time away, and sometimes choose to extend her trip.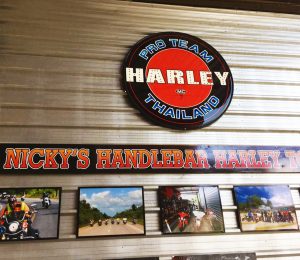 On a recent work engagement, she traveled to Pattaya, a city on the eastern gulf coast of Thailand. She and a friend, Sweet Redd, from Austin, Texas, decided that they would use the time to do some sight-seeing. The ladies took a one-and-a-half-hour flight to Phuket, an island of Thailand, composed of some of the most popular beaches, Prior to their flight, the ladies researched renting a Harley motorcycle on the island. After contacting the Harley dealership with no response, they decided to rent from Nicky's Handlebar & Hotel. It was a local bar and hotel, located on Patong Beach in Phuket that rented Harley Davidson bikes. Snacks and Sweet Redd rented a Fat Bob and a Softail to ride, and selected to take an all-day, guided tour on the island. The tour guide rode an Ultra Glide and took the ladies on a ride for about 330 miles.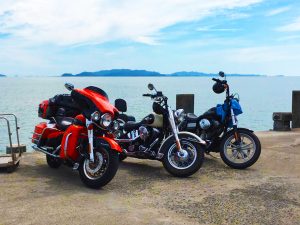 The guide took the ladies to all the most popular beaches. They visited the known tourist locations and a few of the areas that the locals enjoyed. The complete tour lasted roughly 8 hours, which include them stopping for lunch. The island temperatures where close to 85 degrees, however, it started raining on their way back, so the ladies ending up getting soaked. The ladies took plenty of photos and enjoyed the beaches and beautiful views. They made it back safely with no issues. One memorable part of the trip for Snacks was the condition of the motorcycles. She stated that the tour guide took them on a gravel, dirt road, and each time they would hit a bump, it sounded like something was falling off the motorcycles. Though she enjoyed her trip, she would try to rent a Harley from the dealership, for a better riding experience.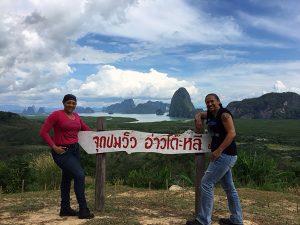 Snacks is currently planning her next trip and states that she plans to ride to the US Four Corners, this upcoming year. Though work may sometimes take her away from enjoying her love for two wheels, she always finds a way to squeeze it in her schedule.