NAME: Dolly Jus'Tis Johnson
CLUB: Harley's Angels MC
RIDING EXPERIENCE: 35 years
MOTORCYCLES: 2015 HD Road Glide CVO & 2013 HD Breakout
LONGEST RIDE: 24 State Run-2016
Dolly 'Jus Tis' Johnson is president of Harley's Angels MC, based in
Atlanta, GA. She is known throughout the motorcycle community as one of the influential females that promotes riding through various travels across
country.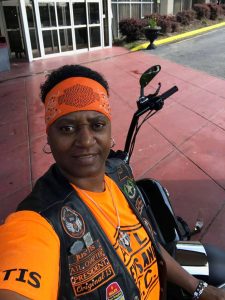 At 10 years old, Jus'Tis found a love for motorcycles. She enjoys beautiful sceneries, creating memories and the wonderful experiences that each trip brings. While traveling, she also enjoys fellowshipping and meeting other motorcycle enthusiasts that share the same passion of riding.
As leader of the all female, Harley-Davidson motorcycle club, she continually emphasize the importance of sisterhood and building bonds. Though she is known for hitting the highway, her motto is simple, JUST RIDE YOUR RIDE!